Adult education budget devolution: combined authorities are preparing to put new policies into action
23 September 2019
How mayors are taking control of adult education spending and using it to address local issues
In August, control over the adult education budget (AEB) was devolved to six mayoral combined authorities (MCA's) and the Greater London Authority (GLA). They will start delivering on their new budgets this month. These budgets have been apportioned based on residency calculations and previous spend, which means that authorities with a higher demand on services have a higher per-resident allocation. This has changed the funding available to some authorities, but does not constitute an overall increase in funding for adult education which has been held constant since 2016.
Whilst MCA's are limited by the requirement to meet the statutory entitlements of their residents, 49% of the AEB participation budget will be devolved, covering c.30% of the English working age population. This makes AEB spending decisions significant. As CPP has previously set out, AEB devolution provides an opportunity for mayors to better align incentives between adult skills provision and local economic needs.
These economic and skill needs will be diverse, reflecting the diversity of MCA's;
The West Midlands has highest share of working age population with no qualifications and Liverpool has the highest share of deprived neighbourhoods (ONS). In both these authorities the employment rate is below the GB average. Adult education spend in these areas should therefore focus on reaching those that have been left behind by the current skills system.
Greater Manchester and Greater London both have to contend with large disparities within their boundaries. Devolved AEB in these authorities represents an opportunity to reduce inequality within their jurisdictions.
West of England and Peterborough and Cambridgeshire, on the other hand, are both performing better than the national average. West of England has the highest share of the population with Level 4 qualifications and Peterborough and Cambridgeshire is the most productive combined authority.
The devolution of AEB presents these areas with an opportunity to tailor spending to meet their individual needs.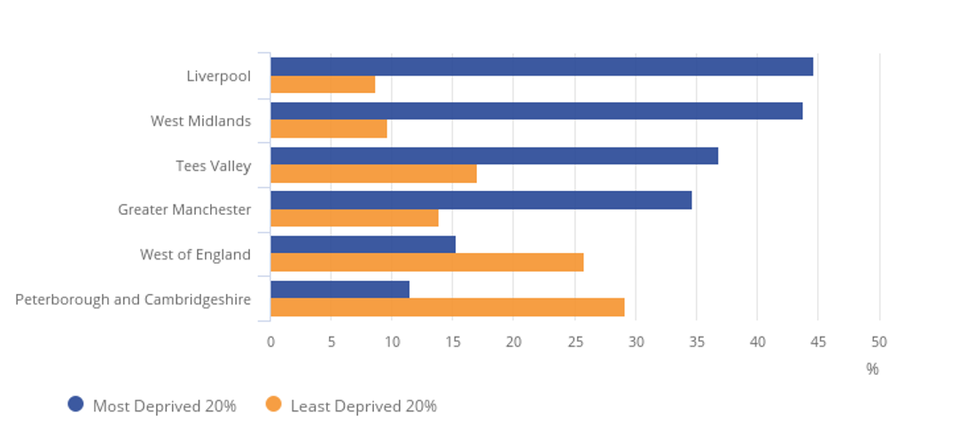 Given their relatively strong starting position, Peterborough and Cambridgeshire are streamlining adult education services to target individuals and areas with lower existing levels of qualification. In Conservative Home, Mayor James Palmer outlined his plan to refocus skills provision; away from so called 'leisure and pleasure' courses towards those that meet the skills needs of the area; agri-tech manufacturing and engineering.
Recognising the high numbers of residents with low or no qualifications, West Midlands, Greater London and Greater Manchester will all provide courses free of charge to all adults earning less that the Living Wage Foundation's national living wage. The GLA estimate that their offer will reach 788,000 people, equivalent to around 15% of the working age population. The GLA are also prioritising ESOL provision in order to increase job opportunities for the '210,000 working age adults who report they cannot speak English very well'.
For some areas, economic conditions mean that adult education will not be enough to resolve labour market issues. Areas like Tees Valley, Liverpool and the West Midlands have relatively low job densities, and demand side policies will also be required to improve their employment outcomes. Liverpool's Skills Strategy recognises the need to expand the number and range of high skill jobs available in the longer term and it will be interesting to see how their local industrial strategy (LIS) addresses this.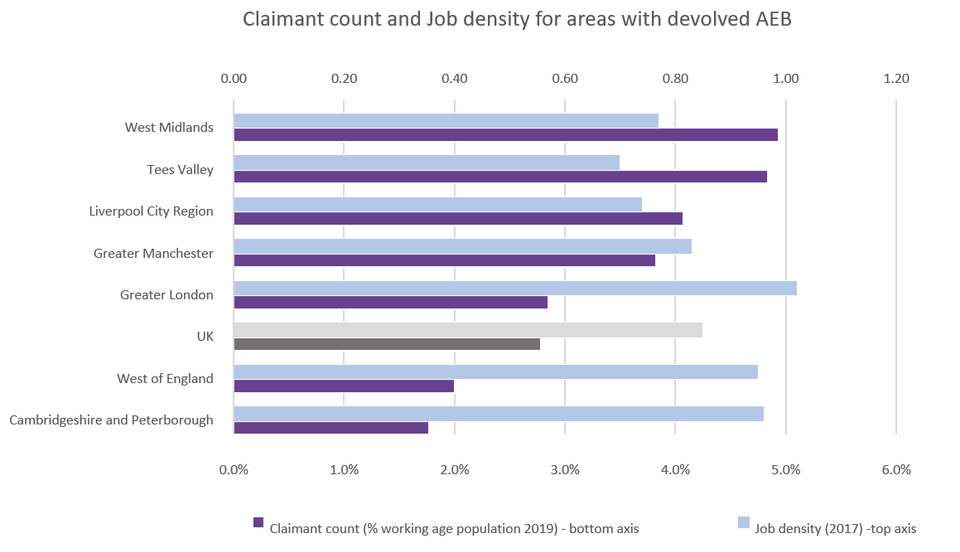 Local industrial strategies have already been published by West of England, Cambridgeshire and Peterborough, Greater Manchester and the West Midlands. As an area with low job density, West Midlands LIS recognises the importance of nurturing labour demand, discussing strategic opportunities for growth in advanced manufacturing, particularly in Electric and Connected Autonomous Vehicles and battery manufacturing. West Midlands' plans for AEB spending complement this strategy; from this year they will fund Level 3 courses in areas such as digital, construction, advanced manufacturing and engineering, where employers have said they are struggling to fill vacancies. For areas that are still developing their local industrial strategies, it will be important to see that AEB spending complements broader economic policies.
We will be looking out for more details on devolved AEB spending as they emerge, and taking this conversation forward at this year's Inclusive Growth Conference, where we will discuss how best can MCAs and the GLA use their AEB to tailor provision to local priorities. Our next blog in this series will explore some of the barriers to maximising the impact of skills devolution.