How housing policy can support the Scottish Government's Inclusive Growth Strategy
2 May 2019
Last week, CaCHE and Policy Scotland co-hosted the Scottish Housing Policy Conference 2019, the theme of which was 'Housing and Inclusive Growth: Revitalising Connections'. You can read more about the theme here. In this blog post, Thomas Aubrey summarised his presentation on how housing policy can support the Scottish Government's Inclusive Growth Strategy.
The rising discontent across many advanced economies indicates that something has gone wrong with our growth model. As the OECD has recently argued, "inequalities deepened by the financial crisis have left large segments of the population with reduced opportunities to improve their economic conditions and well-being for them and their children."
The OECD framework suggests that efficient governments need to combine supply side policies on creating business dynamism through innovation and technology, alongside human capital development – enabling the workforce to take advantage of these opportunities. Human capital development includes housing and health as well as education and skills. The creation of more well-paid jobs lies at the heart of any inclusive growth strategy as employment is central to human health and happiness. But housing also plays a role in delivering on inclusive growth.
Attempts to stimulate growth from scratch have a poor record. Instead policy should focus on improving the conditions to nurture growth and above all support growth where it occurs. Since 2008, the Greater Edinburgh and Central regions have demonstrated strong growth in both Gross Value Added (GVA) per capita and employment growth indicating they are creating more well-paid jobs.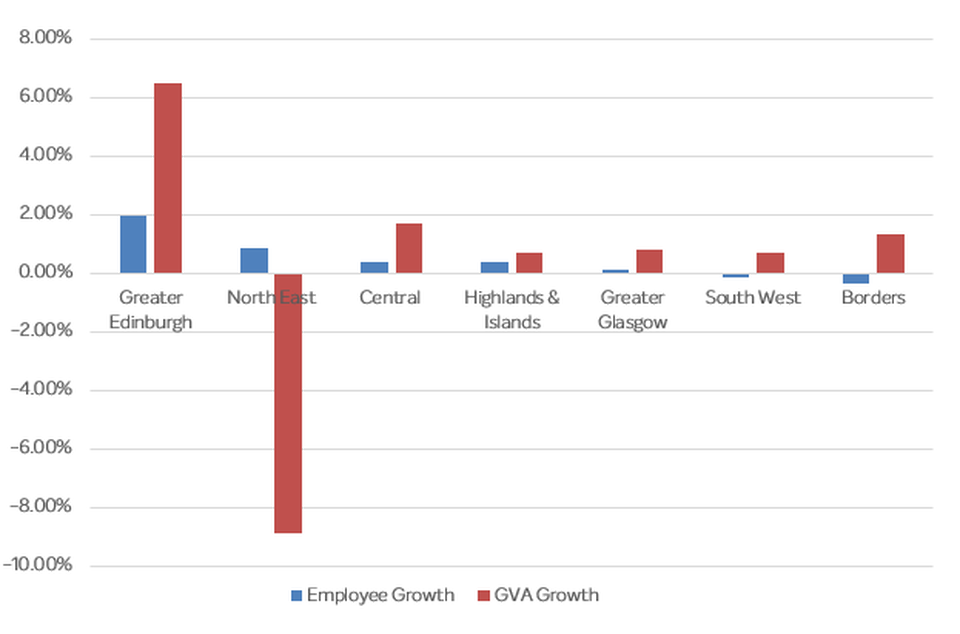 But more can be achieved. The Centre for Progressive Policy (CPP) analysis indicates that in Scotland 16,500 core technical roles remain difficult to fill due to skills shortages. These roles typically require at least a vocational level 3 qualification in areas where there is strong demand and can command a salary over £30,000 per annum. Other CPP analysis suggests that too many school leavers are choosing careers with less demand and lower pay instead of options where there is higher demand and higher pay.
| Skills Shortage Vacancies Analysis (SSV) | Scotland | | | Rest of the UK | | |
| --- | --- | --- | --- | --- | --- | --- |
| | 2013 | 2015 | 2017 | 2013 | 2015 | 2017 |
| % SSV core tech | 32% | 30% | 32% | 30% | 29% | 31% |
| SSV | 19,500 | 15,800 | 16,500 | 224,600 | 238,100 | 304,900 |
| Salary (mean) | £31,500 | £31,400 | £30,100 | £30,900 | £32,300 | £31,600 |
| Salary (median) | £27,000 | £27,500 | £27,400 | £26,800 | £27,600 | £28,000 |
Source: Burning Glass, UKCES, CPP

Resolving this skills mismatch to ensure that more people are given the opportunity to attain skills in high demand would be a huge boost to inclusive growth across Scotland.
Another major factor that needs to be addressed to drive forward inclusive growth is the connection between housing and health. The quality of housing impacts a person's health and therefore might prevent participation in the labour market. Moreover, an inclusive growth model requires a sufficient supply of housing that is affordable and close to a place of work.
According to the Scottish House Condition Survey, 24% of dwellings had some instances of urgent and critical disrepair in 2017, although this is significantly lower across the Housing Association sector. Higher incomes, in addition to an increase in supply to replace poor quality housing would be hugely positive for inclusive growth. The policy challenge is how can supply be increased in locations close to job creation while making sure it is affordable?
Infrastructure is critical in raising the rate of growth of housing supply. During the 1960s when the new towns were built, UK infrastructure investment was around 6% of GDP and housing completions per 1000 population peaked at 8. Since the financial crisis, infrastructure investment has stagnated at around 2% of GDP with housing completions hovering just above 2 per 1000 of population.
One challenge for government policy is how to fund infrastructure which is complicated to deliver and has high up-front payments which may or may not generate future revenue streams to pay back the initial investment.
Increasing the share of general public expenditure for infrastructure is challenging given that health and education will tend to take the lion's share of any such increases. In addition, losing the direct link between funding projects and returns increases project risk. Furthermore, infrastructure levies are notorious for underdelivering when it comes to the amount they raise.
Scotland should instead revert to the way the new towns were built by using land value capture to fund both infrastructure and affordable housing. This is where the difference between land with planning permission and agricultural or industrial land flows to the community. To achieve this would require reform of the Land Compensation (Scotland) Act 1963 to remove prospective planning permission from the compensation arrangements.
This approach would require each region to draw up an integrated transport and housing plan. Although work has been done on transport planning such as SESplan for Edinburgh and SE Scotland, this plan was not integrated with housing policy. By integrating the two, CPP estimates that the Edinburgh City Region could tap into an additional £8.6bn over the next 20 years to support infrastructure investment and affordable housing.
Ensuring that Scotland is generating more well-paid jobs and the labour market is supplying people with the right skills is central to inclusive growth. But housing policy must respond to this by building good quality affordable housing close to the place of work. This can be supported by reforming the 1963 Act to ensure that the necessary infrastructure investment and affordable housing is funded.
You can view some videos and read some of the other blog posts from speakers that are being published throughout the week. You can also access the slides from the conference here.
This article was first published by the UK Collaborative Centre for Housing Evidence. Views of the author do not necessarily reflect the views of CaCHE.