Latest earnings data shows that for many, work isn't paying enough to meet rising costs
8 November 2022
Increasingly, work is not paying enough for people to live on. CPP analysis of the latest earnings data from the ONS estimates that 3 million (10%) people across the UK are paid at or below the National Living Wage and 13.8 million (44%) are paid less than the amount required to reach a minimum acceptable standard of living. CPP calls for businesses and low earners to be supported during this period as part of the transition to more productive and green local economies.
The number of people struggling to meet the basic cost of living across the country is rising. The rising cost of living essentials hits those on the lowest incomes hardest, with a recent survey by the Living Wage Foundation finding that 78% of those paid below the real Living Wage believe now to be the worst financial period they have ever faced. Yet the UK's official statistics on poverty are not designed to accommodate such a fast changing economic context, leaving policymakers ill-equipped to design interventions that both adequately reflect rapidly changing circumstances, and are sufficiently targeted to support those most in need. This makes measures like the Minimum Income Standard (MIS) – the basis of the RLW – particularly important for understanding the breadth of need and where inflationary pressures are bearing down the most.
The real Living Wage (RLW) – independently calculated by the Living Wage Foundation each year and based on the actual cost of living – has risen significantly over the past year as the cost of living crisis continues to squeeze household incomes. For those outside of London it has jumped by around 10% (equivalent to around £1 per hour). In London, which has a different rate to account for higher living costs in the capital, it has risen by just over 8% (equivalent to 90p per hour), each representing the sharpest rise in the organisation's history. While welcome news for those earning the real Living Wage, this significant increase has not been matched by the government's lower-rate legal minimum wage, known as the national Living Wage (NLW) which has risen by 59p per hour. This suggests that all those paid at or below the legal minimum will increasingly be unable to make enough money to live on, as costs continue to soar. New CPP analysis of ONS earnings data for 2022 suggests that 3 million across the UK are paid at or below this national minimum.

The gap between the real Living Wage and National Minimum Wage has increased sharply over the last two years, after years of narrowing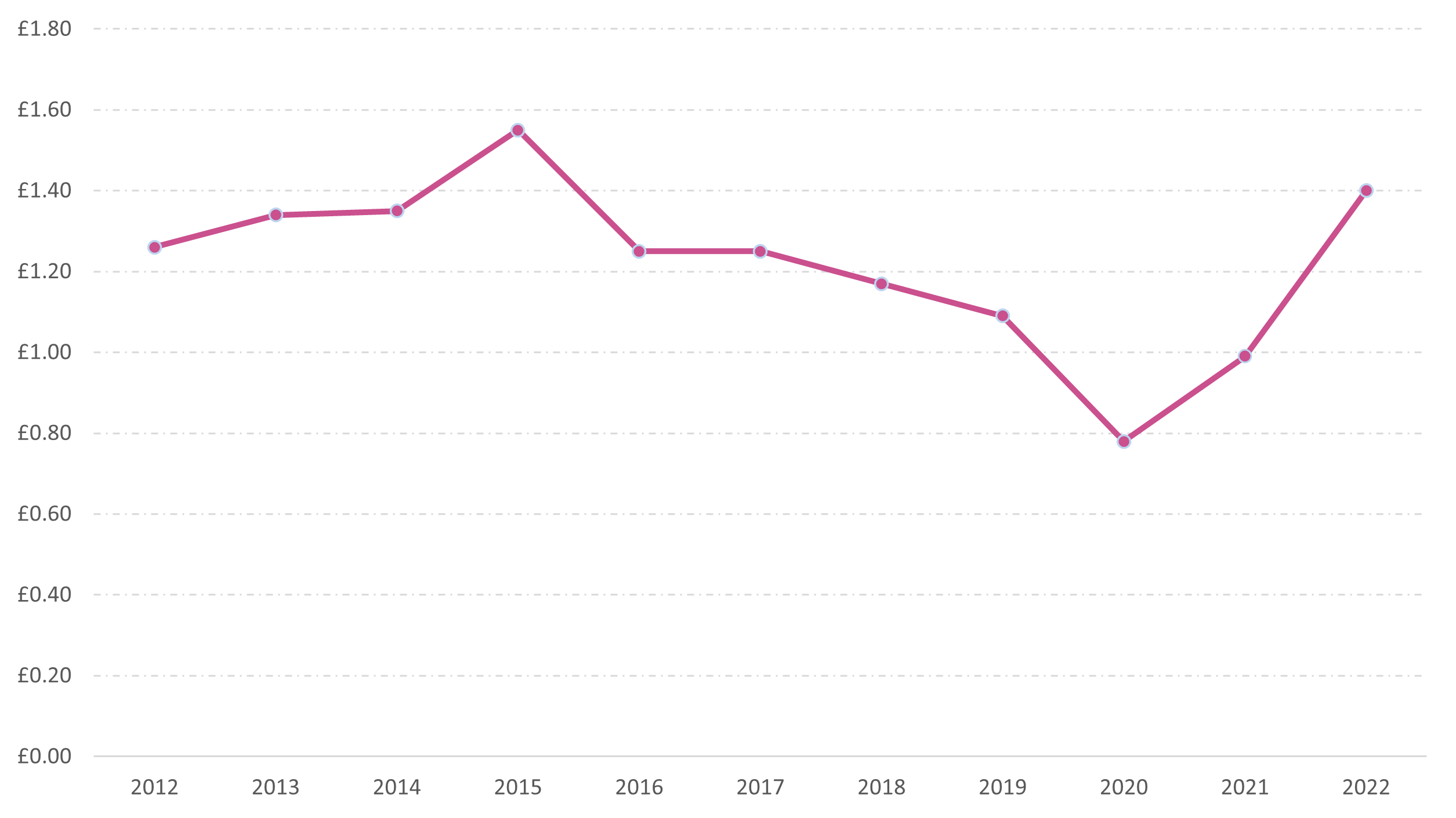 Far greater numbers are paid below the Joseph Roundtree Foundation's Minimum Income Standard for a single person, which is estimated to be £25,500 in 2022. The map below shows the proportion of people paid below this level by local authority, which ranges from 23% in Islington to 65% in Blackpool. While this represents a single person's necessary salary, it is a useful benchmark for measuring the standard of earnings on any job and highlights the particular problem faced by places such as Blackpool, West Devon and Pendle where over 60% of jobs are paid below the rate a single person needs to reach an acceptable standard of living in 2022.
Nationwide, UK pay has struggled to keep up with our European peers, with recent growth in UK industry characterised by low-wage, low-productivity jobs. Growing gig economy sectors like delivery drivers are routinely paid less than minimum wage and over a million people are also currently on zero-hour contracts, with a high concentration in the hospitality, health and social work and transport and storage sectors. This has left workers across the country in vulnerable to poverty in the face of decades-high price hikes and the threat of a recession.
CPP has consistently called for businesses to pay the real Living Wage and in response to the current crisis has also proposed a new locally delivered Business Transition Fund to support the transition of energy-intensive sectors to a decarbonised economy while protecting employees. This would be particularly directed at vulnerable places where a lot of people are employed in energy intensive sectors that may struggle to survive when government support tapers off. In the coming months we will be considering how innovation can be stimulated in poorer low-productivity places to kick start a virtuous cycle of good jobs with better earnings and hours, leading to higher living standards and security, better health and higher productivity.
Notes
This analysis uses ONS's Annual Survey of Hours and Earnings (ASHE) gross earnings in pounds for employees who are on adult rates of pay and whose pay was not affected by absence, by local authority.
The methodology for estimating the proportion of jobs paid below National Living Wage and Minimum Income Standard assumes linear interpolation between earnings deciles and is based on previous analysis of low pay by the Health Foundation (see: https://www.health.org.uk/evidence-hub/work/job-quality/proportion-of-low-paid-jobs). The method is consistent with the one used to identify the proportion of people on low pay in CPP's Cost of Living index: https://www.progressive-policy.net/publications/hard-up.
Estimates for the number of people affected by low pay are based on workforce jobs data published in September 2022. They use the estimate for the number of employee jobs in March 2022 as this is the closest fit for 2022 ASHE data which was collected in April.
Estimates for the number of people earning below a minimum acceptable standard of living are based on the Joseph Roundtree Foundation's Minimum Income Standard for single people which was £25,500 in April 2022 (see: https://www.jrf.org.uk/report/minimum-income-standard-uk-2022).
The analysis reflects local authority rates of pay for those who are in work. It does not represent a places vulnerability due to other economic and poverty factors such as: unemployment rates, economic inactivity, existing deprivation, or poor health.