Why the funding boost for FE must be matched by decisive action
5 September 2019
"Further Education", the new Chancellor of the Exchequer Sajid Javid proclaimed recently, "is a lifeline of opportunity for our young people." Javid, having attended an FE college himself, is no stranger to the vital role further education plays in equipping young people with the tools they need to prosper in the world of work. As recognition, yesterday he used his first major set piece as Chancellor to announce an extra £400m for the sector – the biggest annual uplift since 2010.
While the boost isn't enough to reverse a decade of cuts in FE, this will be seen as step in the right direction by the wide range of organisations that have campaigned to 'Raise the Rate' of funding. £190m will go towards increasing the base rate of funding for 16-17 year olds from £4,000 – the rate at which it has been frozen since 2013 – to £4,188 (as reported by FE Week). £120m is ringfenced to help 'deliver expensive but crucial subjects such as engineering'. There's also an additional £25m for T-levels, £20m to recruit and retain FE teachers, £35m extra for GCSE Maths and English re-sits and £10m for the advanced maths premium.
The case for investing in our skills system has been well made and there is little doubt that it has been underfunded for some time now. Done right, FE can be the driving force behind a fairer, more prosperous economy. Analysis by CPP also suggests that the period between 16 and 18 years old is crucial, with those who fall behind at this stage struggling to recover. Of those who do not gain a Level 2 qualification (in the past the equivalent to 5 GCSEs with grades A*- C) by the age of 18, almost three in five still do not by the age of 25. Only just over one in 10 go on to gain a Level 3 qualification or higher in that time.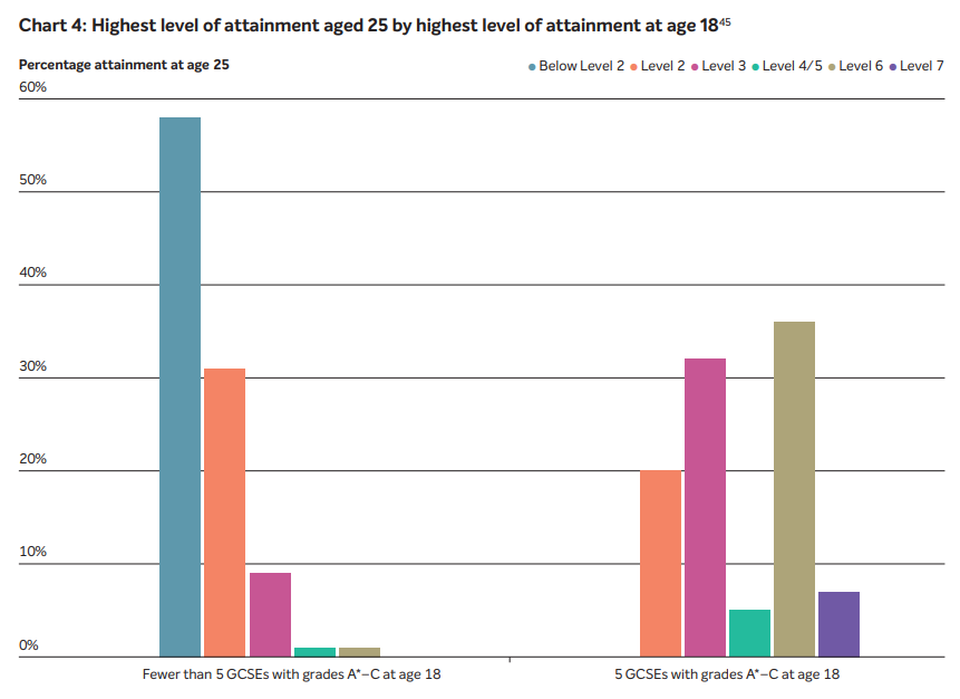 However, the skills system in England has underperformed for decades, and an increase in funding is no guarantee of improved outcomes. But in any case, to ensure we get the most out of the improved funding settlement announced yesterday for FE, policymakers should now focus on two things: improving coordination and driving progression.
Improving coordination
In order to maximise the benefits of FE learning, we must ensure that the courses being taken by learners are well aligned to the needs of businesses. That of course means high quality teaching and learning. But it also means the number of learners completing each type of course corresponding well to the makeup of jobs available in their area. An extra £200 per learner will help colleges improve the quality of their courses, but unless people actually go on to use these skills in a relevant job the benefits won't feed through to a more productive economy or higher earnings for the individual.
The £120m pledged to support crucial subjects will help, as the higher cost often associated with these courses can mean cash-strapped colleges are reluctant to run them. However, providing these courses is just the first step. Ultimately, there must be a demand for them from young people. Careers advice and guidance, which has not escaped funding cuts over the last decade, is crucial for this. That's why we recently went to Derby to speak to school pupils about how they make these kinds of decisions.
Driving progression
There are still too many young people churning in and out of low-level courses and low-paid work. Failing to progress on to higher level courses that lead to a well-paid technical career is costly for the productivity of our economy, for businesses and for the individual. Recent evidence shows an earnings premium of £3,500 associated with completing a Level 4 qualification over a Level 3 after only one year.
In order to make the most of this funding boost, we must streamline progression through qualification levels. At a minimum, Level 2 qualifications should make progression routes into Level 3 courses clear, as we call for in our report, Skills for Inclusive Growth. Publishing progression rates to higher levels would also help learners identify successful paths through what can be a complex and confusing system.
A further education sector that provides a workforce equipped with the high-level technical skills needed to drive productivity and shared prosperity is the ultimate goal. Good levels of funding are a necessary condition for achieving this, but they are not sufficient. There remain too many young people whose experience with further education ends in a low-level qualification ill-suited to the demands of business. And so the boost in funding announced today must be matched by decisive action to improve how the system functions. Only then can FE live up to its aspirant billing from our new Chancellor.