The business case for investment in: childcare
11 August 2020
The fourth blog in our social infrastructure series highlights the need for additional investment in childcare, which is vital for fairness, opportunity and inclusive growth.
The 'creche ceiling' that holds back women isn't just about discrimination in the workplace, it's about practical, affordable and flexible childcare that enables more women to access good jobs and increase their household's income.
Breaking this ceiling will help to improve child outcomes and be a key driver of an inclusive recovery and levelling up of opportunities for families across the UK.
Why invest in childcare?
While schools and nurseries were closed during lockdown, access to childcare – whether privately funded or state-maintained – was exposed as the hidden backbone of the pre-Covid economy. Since then the debate over 'schools vs pubs' has been as much about children's education needs as ensuring parents, particularly women, can return to work fully. Mothers are one-and-a-half times more likely than fathers to have either lost their job or quit since lockdown began.[1]
Women are also more likely to have been furloughed and are at particular risk of finding themselves in 'zombie jobs' given their overrepresentation in low paid service sector roles hit hardest by the social distancing (e.g. retail, hospitality). As the furlough scheme is due to end in October there is a serious question of what roles women are coming back to, if at all, and the impact this will have on the livelihoods of their families.
While fathers have doubled the time they spend on childcare since lockdown, women were carrying out on average two-thirds more of the childcare duties per day than men. Progress has been made in recent decades, but the gulf in the proportion of women economically inactive due to looking after the family or home has been persistently wide (see chart below).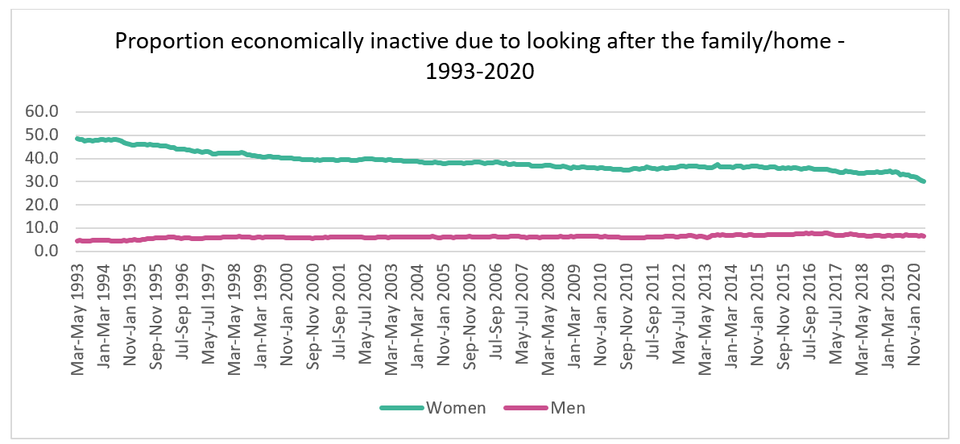 As the question of whether and how schools can reopen fully and safely reaches a head, and with private nurseries facing long term challenges – pre and post Covid – about their financial sustainability, now is the time to review how investment in more affordable, flexible childcare could drive an inclusive recovery.
Progress in participation
Over the last 20 years, much of family policy has been designed to increase female participation in the labour market and it has – on this basis – been a success, contributing to a rise of 8.5 percentage points since 2000 (up from 66.6% to 75.1% in 2019). The evidence is uncertain as to which childcare arrangements are best for children's outcomes and CPP will examine more on early years education in the coming months. This blog focusses on the availability of affordable childcare to enable women – who would otherwise not be able – to access good jobs.
The question of whether and how women return to work after having children has long, and rightly, been framed as one of personal choice. But for many families a dual income is essential to meet high housing and living costs and the UK has one of the highest rates of dual parent employment in Europe (73.2%). With the cost of childcare averaging £6,600 per year for a part time nursery place, meaningful choice is further curtailed so that families – particularly mothers – face tough trade-offs as to what is best for them and their children.
Investment over the last decade
Spending by government on free childcare has increased significantly over the last decades, even as other parts of the education and wider public sector have experienced severe cuts. IFS data shows spending rose from almost nothing in the 1990s to £1.6 billion in 2009–10 (in 2019–20 prices) and has since increased by more than 130% to reach £3.3 billion in 2018-19. Combined with spending on free childcare for disadvantaged 2-year-olds, childcare subsidies for low-income working families, tax relief on childcare vouchers and tax-free childcare, total public spending on childcare stood at around £5.4 billion in 2018-19.
In 2017 the government increased the number of free hours for three- and four-year olds from 15 per week to 30 hours. But evaluations of this shift in policy have not seen the expected increase in female labour market participation. There are at least two reasons why this might be the case:
Prohibitive costs: Without access to free childcare until 2 years (when support kicks in for disadvantaged families and is available for all 3- and 4-year olds) most women in dual earning households only work part time, if at all. The costs of childcare make it prohibitive (and even irrational at points in the income distribution) to return full time. Cost and availability of wrap-around care before and after school also mean that it is not until children are 16 years that we see the majority of dual income parents both working full time.
Lack of flexibility: 'Free' hours are only available for 38 weeks of the year, meaning that parents still face fees out of term time (where care is available) or are left without access to provision during this time – again, presenting a barrier to accessing full time work. Extended opening hours available in some nurseries (e.g. 7am – 7pm plus holiday cover) go some way to meeting more complex working patterns, but many in school settings are restricted to 9am – 3pm, limiting employment options available (e.g. for shift workers).
How can investment deliver the best outcome for society?
The benefits of getting it right
There is consistent and compelling evidence that parental socio-economic status (SES) shapes inequalities in children's cognitive skills, educational attainment and health outcomes. Many of the differences in outcome are apparent before the age of three, made worse between five and ten and on into adolescence.
Our life chances are a complex product of our family circumstances. Poverty, particularly that experienced within a child's first year of life and over multiple years, has the biggest impact overall. While there are interventions that can help to overcome the impact of low income – including maternal mental health and support for parent relationships – ultimately, money matters. For many women, increasing access to affordable and flexible formal and/or informal childcare will be a critical part of improving their earning power. Current ONS Labour Force Survey data shows:
33% of economically inactive women are looking after family/home compared to 7% of men
40% of working age women in employment work part time compared to 11% of men
3.6% of women in employment are on zero hours contracts compared to 2.8% of men
Enabling access to good jobs, which pay fairly and offer minimum contractual security, offers a route out of poverty for many families, and a better quality of life for many more who rely upon dual incomes just to get by.
Conditions all investment must meet
Investment in more affordable, flexible childcare could be a key driver of inclusive recovery when:
Support prioritises access to childcare for the poorest families who are otherwise unable to access the labour market, enabling seamless transition from the end of statutory or enhanced maternity leave back into the workplace.
Provision is high quality, but this need not require graduate trained staff; there is no evidence that group settings with graduate staff systemically improve outcomes for children. Professor Naomi Eisenstadt, instigator of the Sure Start programme under Tony Blair's Labour government, argues that a more blended approach between formal and non-formal settings (in which the latter more resembles a home learning environment) could be a way forward here – reducing costs and improving quality of care for children.
'Shovel ready' investments in this area
Bring forward eligibility for free childcare for disadvantaged 2-year olds to 9 or 12 months – so that people can be supported back into the workplace without experiencing a long period with no or significantly reduced income.
Uplift per place funding under the 30 hours scheme so that providers can cover their costs. Even before Covid-19, the viability of the sector was threatened and supply of places diminishing by an average 577 settings per month (April – August 2018).
Extend uplifted 30 hours childcare for 3- and 4- year olds to parents in training, enabling families to develop their skills, increase earnings and enhance their resilience to structural economic change and uncertainty.
How much will it cost?
The Family and Childcare Trust estimate that extending 30 hours childcare (3 and 4 years) provision to parents in training would cost £57m. Government estimate that the 30 hours entitlement costs £695 million per year above the cost of the universal 15 hours entitlement.
The debt racked up by Covid-19 will take generations to clear. The challenge is therefore to think about generational returns to investment now, so that we reap the benefits fiscally, economically and socially. The 'Heckman Curve' – for which James Heckman won a Nobel Prize – showed the returns on investment in children's services were higher the earlier they were delivered. High quality early years interventions are relatively inexpensive and generate long term benefits.
Here we note PwC (2019) estimated increasing female labour market participation to match Sweden (the highest performer in their Women in Work Index) could add an additional £178bn to the UK economy. While the UK has improved a notch in its rankings over the last decade, the UK is still at the bottom of the G7 league table when it comes to the full-time female employment rate. The UK also trails other European countries on similar indicators, suggesting that the economic uplift could be significant if we could close the gap, both between men and women in the UK, and in terms of our international competitors.
How will we know if the investment has been successful?
Increases in the full-time female employment rate and a reduction in the difference between men and women who are economically inactive due to looking after the family or home could both be seen as indicators of success.
However, headline labour market participation figures disguise the fact that many working mothers are compelled by recruitment and employment practices as well as childcare cost, availability, and flexibility to working in low-paid, part time roles or under precarious zero hours contracts.
For families where the cost of childcare is prohibitively high, extending entitlement to re-enter the labour market sooner and upskill or retrain could open up access to better paid work. Post-Covid, it also reduces their risk of unemployment. Given the clear evidence on the effect of parental socio-economic status on child development, education attainment and health outcomes, an approach that reduces poverty has the potential to transform life chances, drive productivity and increase shared prosperity. It is a recipe for fairness, opportunity and inclusive growth.
CPP will conduct further work into the economic returns to childcare, early years and early intervention in our 2021 research programme. Sign up to our newsletter here.

In our next blog, we will be highlighting investments in public health and obesity as vital components of economic resilience for communities.

Notes
[1] Even before Covid-19, latest ONS survey data suggested over half of mothers (56.2%) said they had made a change to their employment for childcare reasons, compared with 22.4% of fathers, and were more likely to reduce their working hours because of childcare (with 3 in 10 mothers reporting this).
[2] ONS Labour force survey data reflects the most recent available on Nomis on 11 August 2020.