The levelling up outlook #3
CPP's quarterly levelling up outlook
25 March 2021
This is CPP's third levelling up outlook tracking the country's progress in reducing economic inequalities in the context of the ongoing crisis.

We are using the latest official statistics and other reliable data to publish the outlook every quarter.
This quarter, the outlook focuses on the geographic distribution of pandemic spending before assessing which regions and places stand to benefit the most from the Chancellor's latest policies for recovery.
The levelling down of London's labour market
London's labour market continues to be worst hit – seeing the highest rise in Universal Credit, highest proportion furloughed and largest fall in total employment of any region during the crisis.
CPP modelling reveals that all regions are likely to experience substantially lower economic output in the summer compared with before the crisis, with the South East and London marginally worse off than other regions.
| | | | |
| --- | --- | --- | --- |
| Region | Year-on-year employee growth (%) | Claimant Count year-on-year change (pp) | Furlough - provisional Jan (%) |
| London | -5.2 | 5.1 | 17 |
| Scotland | -2.8 | 2.7 | 15 |
| South East | -2.8 | 3 | 15 |
| South West | -2.1 | 2.7 | 16 |
| East of England | -2.1 | 3 | 15 |
| Wales | -2.0 | 2.6 | 14 |
| West Midlands | -1.9 | 3.3 | 14 |
| Yorkshire and the Humber | -1.8 | 3.1 | 14 |
| North West | -1.7 | 3.3 | 15 |
| East Midlands | -1.6 | 2.7 | 14 |
| North East | -1.5 | 2.6 | 14 |
| Northern Ireland | -0.8 | 2.2 | 14 |
Pandemic spending has been far higher in London
While levelling up is the government's manifesto goal, preventing the levelling down of London appears to have taken priority during the pandemic. CPP analysis of spending per head on key emergency economic measures suggests spending has been much higher in the capital.
Furlough: £1,300 per resident spent in London in comparison to £620 per resident in the North East.
Self-employment support: £440 per resident in London in comparison to £190 per resident in the North East.
Business loans: £360 per resident in London in comparison to £150 per resident in Scotland.
Universal Credit: this is more evenly distributed with London, the North East and North West topping the spending at around £80 per resident.
Taken together, this means London has had £7bn more spent on emergency economic measures than the North East and North West combined despite having a population similar in size.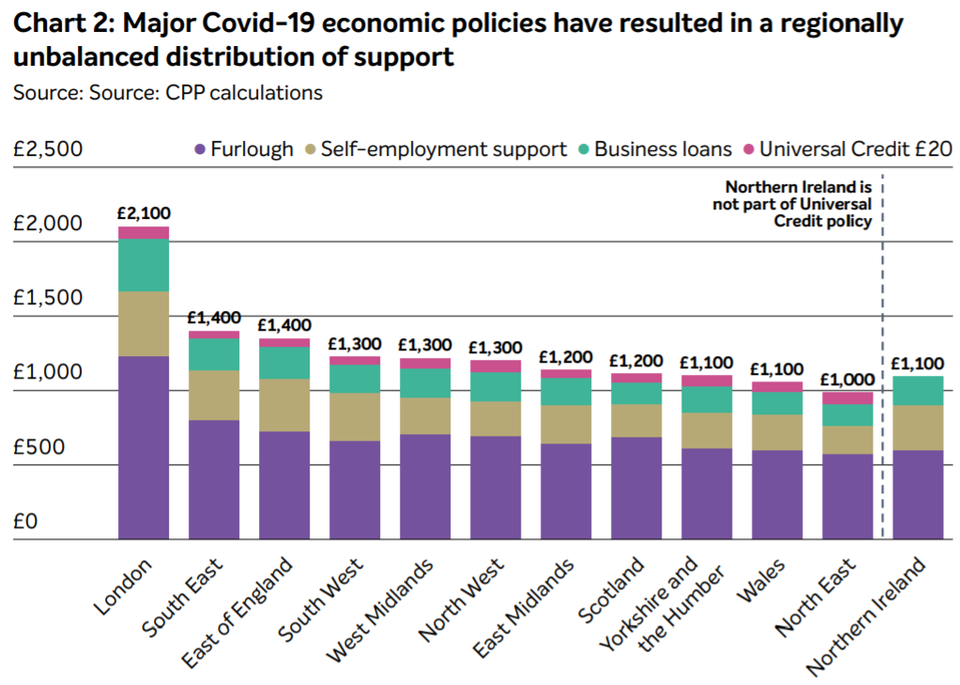 Economic recovery policies are poorly targeted for levelling up
While preventing the levelling down of London is an important short-term aim, the March Budget set out the Chancellor's thinking on long-term economic recovery and levelling up. But CPP analysis finds many of the key policies wanting:
The super-deduction capital allowance was by far the most expensive policy for economic recovery outlined at the Budget, costing approximately £25bn.

Based on pre-crisis rates of business investment in machinery and equipment by sector, London is likely to receive the largest tax breaks per head of any UK region, £510, in comparison to just £280 in Yorkshire and the Humber and £320 in the North East.
London is top because of high levels of investment, reflecting its large economy, and a concentration of investment in sectors like business services where investment tends to be in machinery and equipment.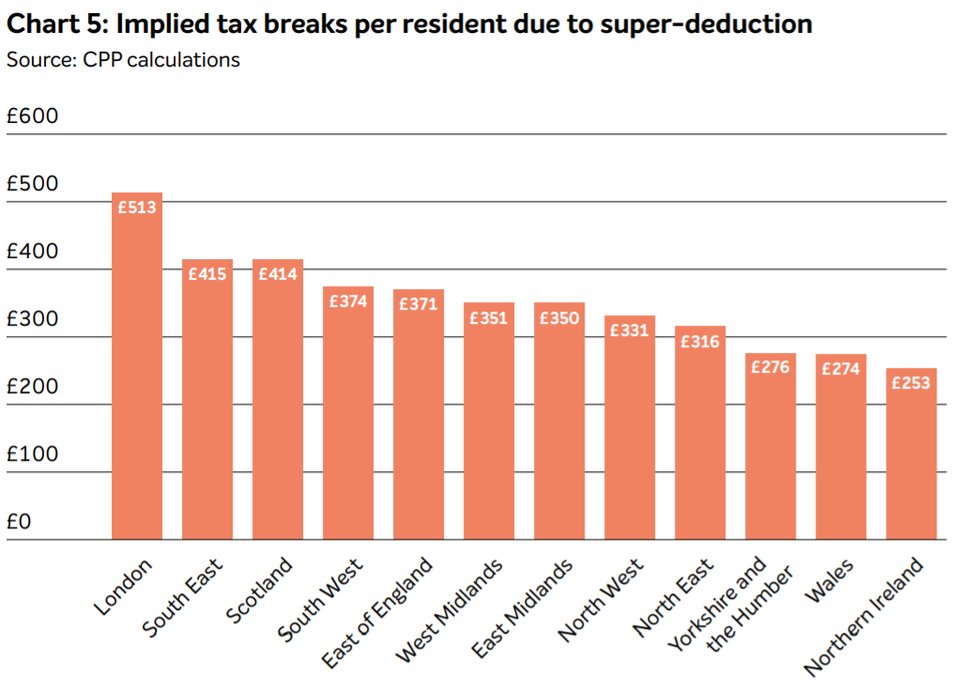 More details were announced on the Levelling Up Fund and Community Renewal Fund which together with the Towns Fund are supposed to support left behind local authorities. But the definition of left behind areas leaves much to be desired:

CPP calculates that there are 6.5 million people living in deprived local authorities which are not going to be prioritised by any of these funds. It will do little to level up these places.
The UK Infrastructure Bank (UKIB) was framed as a way of helping to tackle climate change and level up regional and local growth. But this is not new money for investment.

As the OBR notes, the government's forecast implies that the UKIB will lend £1.5bn a year, but this is just a third of the financing that was provided by the European Investment Bank prior to the EU referendum.
Has the government given up on levelling up?
Given the continued scale of regional and intra-regional inequality, there has been a general recognition that levelling up will require a generational effort with greater sustained investment directed at the regions and places left behind.
Yet from 2023 onwards, the government will tighten overall spending – principally through large tax rises but also by cutting spending on public services.
The sharp contrast between the huge amount of government spending thrown at the pandemic – which our analysis shows has been dispersed to London more than other regions – and the reversion to austerity by 2023, implies the government has turned its back on any serious effort to level up the country.