Press Release: Red Wall economic scarring threatens 'levelling up' agenda
Red Wall areas set to suffer more than double the permanent losses in economic output projected for the South East as a result of coronavirus
Centre for Progressive Policy urges government to 'shore up' worst affected local economies, before renewing its 'levelling up' agenda
Covid-19 is on course to deliver permanent economic scarring to communities across the Midlands and Northern England, according to new research released by the Centre for Progressive Policy today. The figures reveal the scale of the challenge facing the government in implementing its 'levelling up' agenda in the run up to the next General Election.
The report, 'Back from the Brink: Avoiding A Lost Generation', examines the economic impact of covid-19 at a local level, assessing the vulnerability and resilience of communities across the UK. Vulnerability and resilience are measured based on a series of indicators including an area's unemployment levels, average skills levels, time taken to recover from the 2008 recession and size of the lockdown effect.
The places set to suffer the most long-term damage are those that were earmarked by the government to receive more investment following the General Election. So-called 'Red Wall' communities are projected to see an average fall of 12 per cent in permanent losses in economic output over the next five years, which is well over the national average (8%). It is also more than double the average projected losses in regions like the South East (5%).
The impact of these losses on earnings will be significant. Average earnings in the twenty poorest local authorities will fall from £18,580 per annum to £17,340 in real terms in the three years after lockdown. Even within the most resilient local economies, earnings will still be lower in real terms in 2027 compared to 2019.
As well as the regional inequalities, the research is projecting a grim picture for the nation as a whole. By the time of the next expected General Election, the research is forecasting the following trends:
The UK's productivity crisis will deepen. More than three quarters (76%) of local authorities will not have recovered their expected level of output based on pre-crisis trends.
The great national wage stagnation will continue. Across all local authorities, earnings will fall by an average of £1,600 in real terms over the same period.
Vulnerable places will fall further behind. A quarter of UK local authorities have been found to be vulnerable. Output in the twenty most vulnerable places will be an average of 18% below the expected level based on pre-crisis trends.
Areas outside of the 'Red Wall' risk being overlooked. Local authorities in Northern Ireland are on course to see an 11% fall in GVA on average.
To avoid exacerbating existing regional inequities, the Centre for Progressive Policy is urging the government to first shore up the worst affected local economies and avoid the 'levelling down' of some areas. Secondly, to avoid large permanent losses in some of the country's most vulnerable places, it must return to a revitalised levelling up agenda.
Charlotte Alldritt, Director at the Centre for Progressive Policy, said:
"While policymakers are rightly concerned with the immediate economic shock of coronavirus, history has taught us that recessions have deep and long-lasting effects, which are rarely spread evenly across country. This crisis is clearly no different, with those 'left behind' areas on course to bear the economic brunt.
"The government had already signalled its intent to 'do right' by voters who had lent them their vote but these communities have been let down by successive governments in the past. If this administration can fulfil its ambition to level up successfully, it would be righting decades of economic injustice. Covid-19 has made this daunting task even harder, but success is now both a political and economic imperative".
Lord Jim O'Neill, Vice-Chair, Northern Powerhouse Partnership and former Commercial Secretary to the Treasury, commented:
"CPP's report is very timely. I like their five tests as a good target for any government that wants to be successful in doing something about levelling up, especially as the economic and social consequences of COVID-19 might add to some of the deep and complex challenges of those left behind already, particularly in many parts of the North, and other deindustrialised and coastal communities".
The report sets out a series of five tests (below) designed to assess the government's progress against the shoring up and levelling up agenda and outlines the policy interventions needed to get there.
To successfully 'shore up' the government will need to:

Halve the gap in skills and good jobs between vulnerable and resilient areas within a generation
Halve the gap in health between vulnerable and resilient areas within a generation
Completely close the investment gap between vulnerable and resilient areas within a generation
Reduce by half the inequalities between and within places within a generation
A copy of the report 'Avoiding Another Lost Decade' setting out the five tests and proposed policy recommendations for each can be found here.
ENDS

Notes to the Editor
Local authorities are classed as vulnerable/resilient if they meet at least 2 of the following 4 vulnerability/resilient conditions.
| | | |
| --- | --- | --- |
| Indicators | Vulnerability criteria | Resilience criteria |
| The size of the lockdown effect | Greater than 41% decline in GVA in Q2. | Less than 33% hit to GVA in Q2. |
| Time taken to recover from 2008 recession | Not recovered by 2013. | Recovered by 2010. |
| Unemployment level in 2019 | Greater than 4.59% | Less than 2.65% |
| Skill levels | More than 9.9% of residents without a formal qualification | More than 46.7% of residents qualified to level 4 or above. |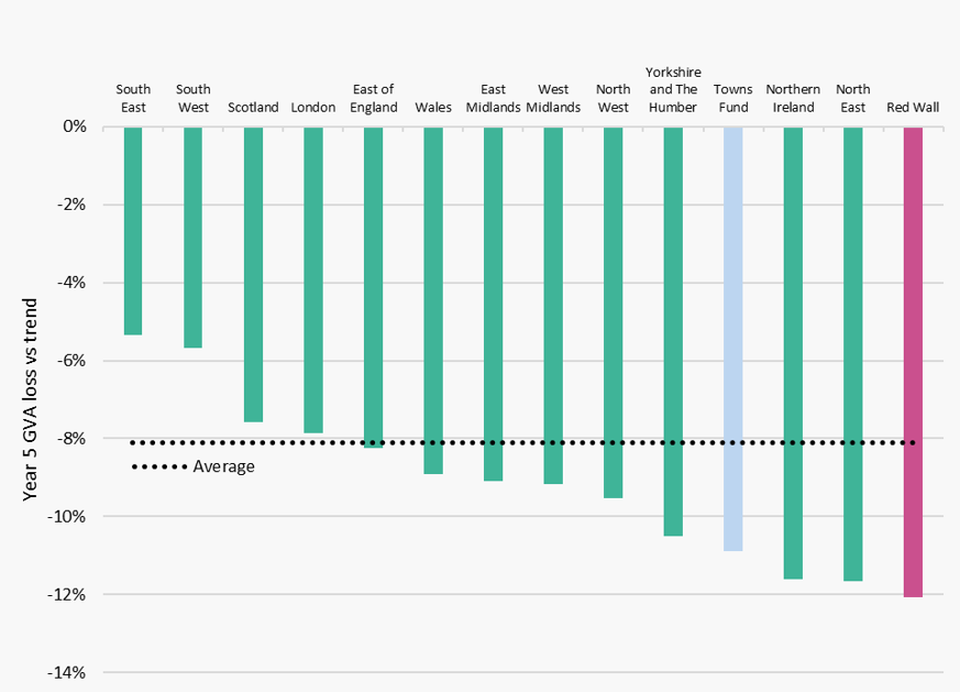 About CPP: The Centre for Progressive Policy is a think tank committed to making inclusive economic growth a reality. By working with national and local partners, our aim is to devise effective, pragmatic policy solutions to drive productivity and shared prosperity in the UK. Inclusive growth is one of the most urgent questions facing advanced economies where stagnant real wages are squeezing living standards and wealth is increasingly concentrated. CPP believes that a new approach to growth is needed, harnessing the best of central and local government to shape the national economic environment and build on the assets and opportunities of place. The Centre for Progressive Policy is fully funded by Lord David Sainsbury, as part of his work on public policy.
For more information on the Centre for Progressive Policy, please see www.progressive-policy.net or follow @CentreProPolicy
For media requests contact Clara Rees Jones at Atlas Partners, cpp@atlas-partners.co.uk or 07761 514 664