Open for Business
Unlocking investment in low-earning economies
10 May 2023
Download the report: Open for Business: unlocking investment in low-earning economies
A new report by the Centre for Progressive Policy (CPP) identifies high-potential industries based in underperforming areas, where increased business investment could unlock billions in economic output.
Analysis by CPP identifies 95 'pockets of potential' – hotspots of highly productive local industry across eight sectors based in 72 underperforming local economies. CPP estimates that if the areas identified secured levels of business investment in line with their potential, it would attract £70.2bn into the UK economy - around 3.8% of national GVA.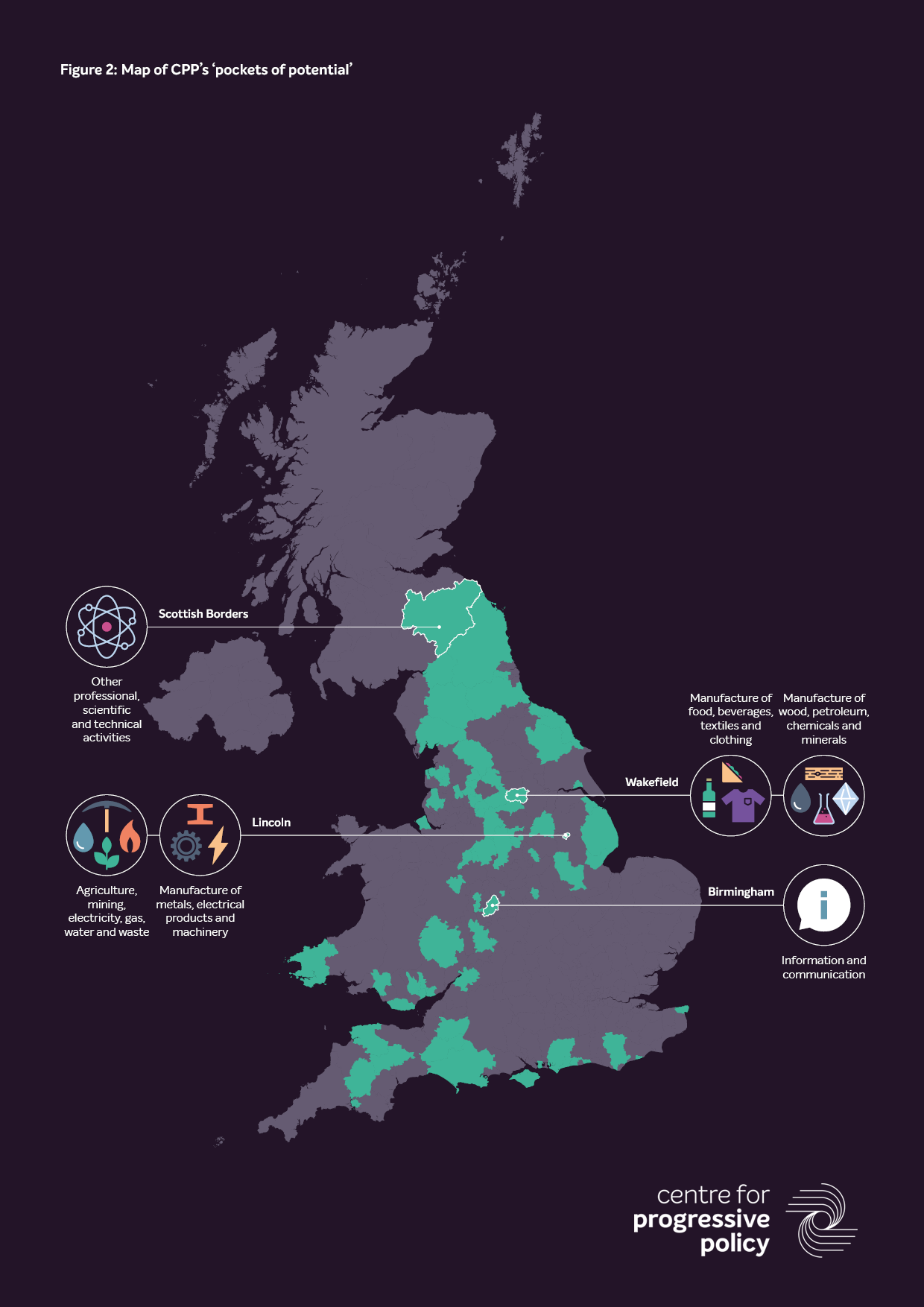 Business investment tends to flow into already prosperous local economies – London and parts of the wider South East – because that is where opportunities for growth have been created by both market forces and the policy choices of successive governments. A lack of skills, infrastructure and state investment in weaker local economies leaves them in a vicious cycle, unable to attract the business investment needed to support growth. The impact is far-reaching; restricting the quality of jobs available locally, diminishing residents' living standards and driving inequalities between places on a scale that has created seismic shifts in the UK's political landscape in recent years.
But our new analysis shows that innovation and investment need not be confined to our big cities: many towns, small cities and rural and coastal areas with underperforming local economies already contain pockets of high potential industries, that have demonstrated impressive productivity growth in recent years.
The 95 'pockets of potential' identified are hotspots of highly productive local industry based in low earning, low productivity places. From manufacturing in rural and coastal areas like Boston, Scarborough, and Stroud and former industrial heartlands like Newport and Burnley to professional scientific, and technical activities in the Scottish Borders, and information and communication in Stoke-on-Trent, our analysis highlights the places and sectors that should be the target of laser focus by any government serious about delivering fairer growth.
In order to encourage higher levels of business investment in these 'pockets of potential' and drive long-term economic growth within the places and sectors that we identify, CPP recommends that the government adopt the following:
Introducing a UK Manufacturing Mission to grow the sector's contribution to GDP and employment: Specific focus should be paid to boosting adoption of digital and other productivity-enhancing technologies in underperforming areas, increasing manufacturing R&D investment outside London and the South East, supporting firms to decarbonise and develop greener practices, and strengthen connections between manufacturers in lagging areas and regional to research and innovation hubs, such as universities and Catapult Centres.
Establishing a new network of Regional Co-Investment Funds across the UK: These new funds would be built out of collaboration between the British Business Bank, the UK Infrastructure Bank, private lenders, and local government. Targeted at the Mayoral/ITL2-region level, they would seek to equalise access to finance across places, catalyse private investment in local industries, and support higher levels of investment in regional development activities and infrastructure, particularly in transport and digital connectivity, and energy security.
Setting a Prime Ministerial target to raise adult education participation to 30% by the end of the next parliament: This would be delivered through a major expansion further education, modular learning, and short training courses, so that everybody has access to a broad range of opportunities within a 45-minute commute, plus a Learners' Living Allowance.
With the right policy interventions, these pockets of potential could become the driving force behind the revitalisation of their local economies and help boost the UK economy at large.
Ross Mudie, Research Analyst at CPP and lead author of the report said:
"Each day, more major firms shift investment out of the UK and towards our competitors across the Channel and Atlantic. Government inaction means we are failing to encourage the level of private investment our economy needs, and limiting the potential for growth beyond London and parts of the south east.
"But our analysis reveals many pockets of high-potential industry in small cities, towns and coastal and rural areas across the UK, largely in the North and Midlands. Encouraging business investment into these communities could transform their economic fortunes and boost the UK economy by £70bn.
"Government has a critical role to play to create the conditions to attract business investment into these places and industries. A new manufacturing mission should be the backbone of an ambitious strategy to revitalise UK enterprise and deliver fair growth across the UK."
Notes
Methodology:
To identify high potential sectors in areas that would benefit from increased business investment, CPP used the following criteria. The full methodology can be found on p. 11 of the report.
Criteria:

Sectors must have above average productivity.
Regional productivity of the sector must be no more than 15% below the national level.
Sector productivity must have grown more quickly than the national average over the past 5 years.
Sectors must be of a reasonable size relative to the local economy.
The sectors' share of the local economy must be growing.
The sectors' share of local employment must be broadly similar to its share of economic output.
To calculate the £70bn increase in GVA, CPP estimates the impact on the economy of a scenario where investment in the local authorities identified above is raised to regional averages. Where local levels of investment, measured by gross fixed capital formation (GFCF), are already above regional averages, they are assumed to rise to levels seen in the top 25% of authorities in the region. The full methodology can be found on p. 41 of the report.