Women in the labour market
A new CPP research programme
10 June 2021
Over the coming months, CPP will launch a series of research reports examining the policies required to close the participation and pay gap between women and men with accessible and affordable childcare being a core focus of this programme of work.
The Covid-19 pandemic has further highlighted the disparities between men and women at work. A light has been shone on the long-term barriers which have hindered women from achieving equality in the labour market. As the economic recovery begins, it is the perfect opportunity to reflect on how society can better enable women to participate and reach their potential at work and to address the systemic gender inequalities which have marred the world of work.
CPP's first report of this research programme by Dean Hochlaf - the full time deficit - explores the most up to date data on women's participation in the labour market. It takes stock of where we are today, using the latest data collected from the quarterly Labour Force Survey. It highlights where women are vulnerable to poorer labour market outcomes and will serve as a reference to help identify the areas in which policy can make a tangible difference.
We are also publishing an essay by Dr. Norma Cohen – why childcare can drive economic recovery - on the specific challenges of childcare during the Covid-19 pandemic and how it has impacted women in work.
The full-time deficit
Despite the promise of choice for women returning to work after having children, few are able to choose full time work. Tackling the barriers to full time work – particularly the affordability and flexibility of childcare – would allow millions more women opportunities to enhance their earnings, boost family finances and fulfil their career potential.
Our analysis reveals several priority areas where sizable employment gaps between men and women exist. The groups we focus on include those with children, older women in the labour force and those with lower level qualifications.
Our key findings are as follows:
Women with children:

Just 1 in 5 women with three or more children are in full-time employment.
83.4% of men with two children were in full-time employment, compared to 34.4% of women with two children.
Older women: Just 37.8% of women aged 50 to 65 were in full-time employment by comparison to 63% of men.
41.9% of non-White women are in full-time employment, compared to 45.6% of White British women, 63.6% of non-White men and 70.2% of White British men.
Women with lower qualifications: 30.4% of women whose highest qualification was a GCSE or lower were in full-time employment, compared to 58.5% of men at the same qualification level.
These findings reveal a problem at the heart of our society and labour market - when it comes to the world of work, women have less choice and fewer opportunities for career progression than men. Addressing this inequality would contribute significantly to the UK's inclusive economic recovery and levelling up agenda. For example, halving the full-time employment gap between men and women would mean a further 2.6 million women in full-time work.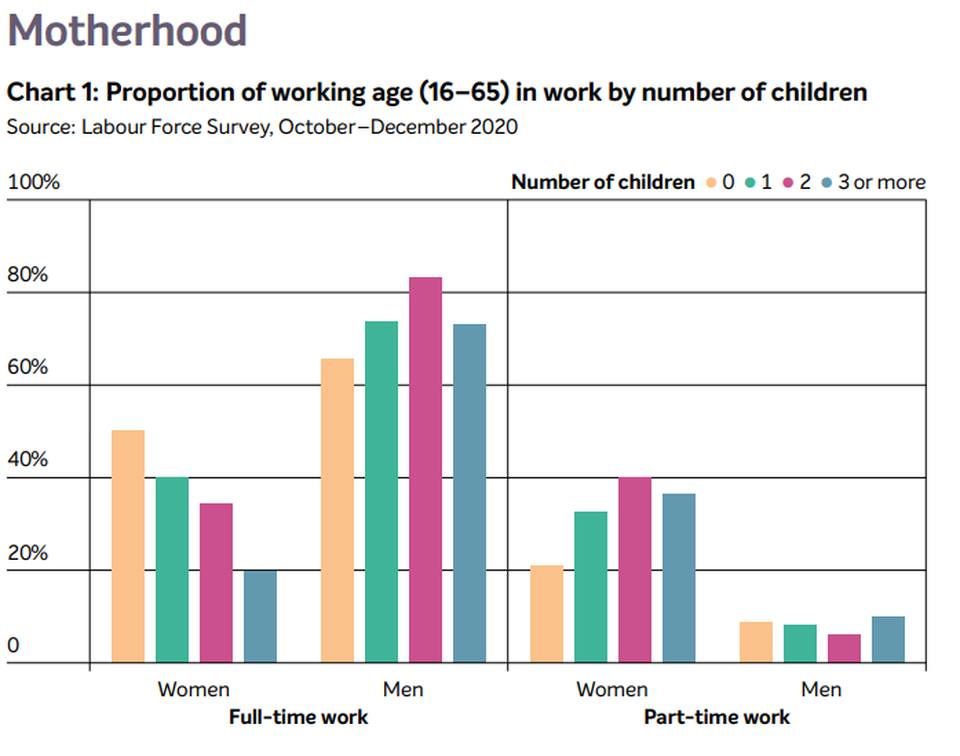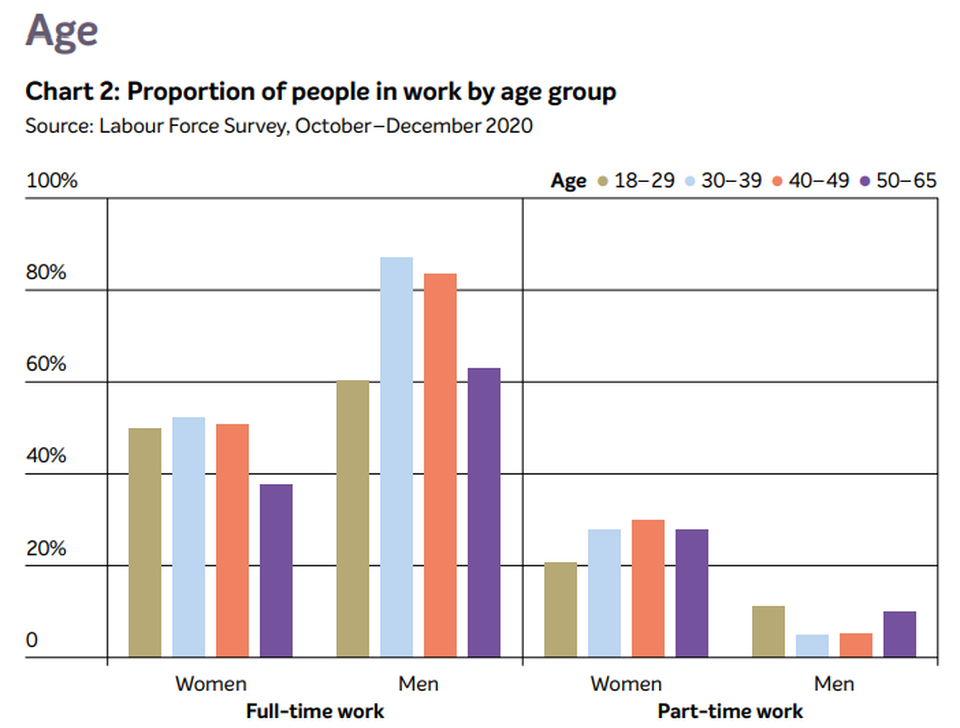 Why childcare can drive economic recovery
In her essay, Norma Cohen argues that affordable childcare is critical to levelling up employment and pay among those left behind groups as the pandemic abates, with UK parents facing amongst the highest costs across developed countries. Failure to provide affordable childcare keeps women out of the workforce for longer than they might choose otherwise, limiting women's ability to progress up the career ladder and earn wages in line with their male counterparts.
Cohen's piece notes that, while the percentage of women who are not in work due to domestic pressures has halved between 1993 and 2019, it remains the single biggest reason why women are economically inactive (26.2%), and is significantly higher than the equivalent proportion of inactive men who look after the family or home (6.2%). [1]
Cohen argues that, as we look to build back better after the pandemic, access to affordable childcare will be one of the most important ways to support maternal employment and close the gaping labour market gap between men and women. The economic windfall from higher female workforce participation and pay will help the Treasury recoup the costs of the crisis.